Less than satisfied with my level of productivity today because I'm not feeling completely well, I have decided to take a break from research to visit
The Fitzwilliam Museum
. It looks like a fairly good museum. Best of all, it's free.
I was able to view only about three fourths of one floor of exhibits at The Fitzwilliam Museum. It is quite an impressive museum. The portion I viewed is antiquities, Persian, Egyptian, Roman, Grecian. There is a lo
t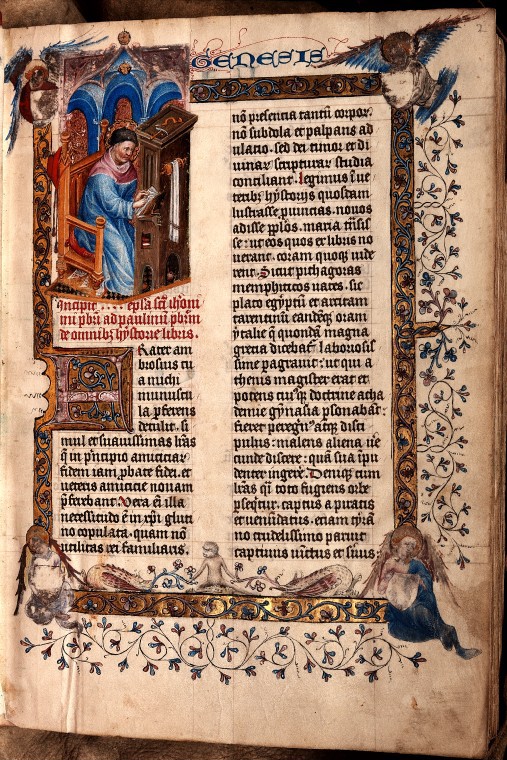 to
see.
I look forward to returning to the museum to continue working my way through oth
er collections. In particular, I hear that the museum has a nice collection of illuminated Bible
s. Some of you may wonder what an illuminated Bible is. Here is a picture of a page from an illuminated Bible. "Illuminated" is the term antiquarians use. "Illustrated" is the term lay folks might use. Most illuminated Bibles and prayer books date from the Middle Ages.
Skilled scribes adorned manuscripts, Bibles and prayer books, with pictorial or graphical designs, with borders, with ornate initial letters, or with miniature pictures in colors and gold.

Monks at Saint John's University in Collegeville, Minnesota, took on a variation of a modern

scriptorium

by preserving Medieval illuminated Bibles and Books of Heures (prayer books) through microfilm and microfiche. For anyone interested in their work, it is well worth a stop. The monks are pleased to accommodate visitors.